Prevent Employee Heart Attack at Workplace
Due to hectic work schedules today, the maximum time of an individual is spent at the workplace, which means there is a great possibility of facing health issues at workplace. According to doctors, half of the heart attack cases happen in people who are yet to reach the age of 45. There have been cases of sudden heart attacks, occurring at the workplace. There is an alarming increase in heart diseases among youngsters. The changing lifestyle and hectic work life affect the physical and mental health of an individual. It has become a necessity to be prepared for unforeseen health emergencies always. Health issues in the workplace are becoming a very common thing and thus, it is important to know the causes of emergencies such as heart attacks and prevent them with the help of employee health checkups.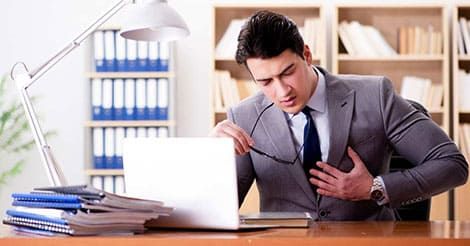 Causes of Heart Attack at Work Place:
Work Pressure and Stress

The stress levels have increased a lot and thus the occurrences of heart attacks have increased. Usually, the people who have to meet strict deadlines, lead a team, follow certain targets and similar such goals face a lot of stress. Handling continuous stress and pressure can lead to heart attacks.

Rotational Working Hours:

Due to rapid globalization and need for continuous assistance, the concept of working in shifts has become necessary. The sleeping hours of the employees are also as per the shifts. Thus, maintaining a naturally regular and sound sleeping schedule is very difficult for the employees, which disturbs the physiological cycle leading to stress and anxiety. Anxiety and stress are very harmful to the heart.

Unhealthy Eating Habits

Eating habits have changed tremendously and people resort to fast food owing to their busy schedule. The time of eating meals is also not fixed. Many people have resorted to fast foods and this is leading to many disorders. Higher cholesterol levels, blood pressure problems, obesity are all results of unhealthy eating habits. All these disorders can make a person prone to heart attacks.

Depression and Anxiety Attacks

Depression and anxiety attacks have become very common. Growing pressure of professional commitments and severe competition in today's world may lead to depression amongst the working professionals. Continuous work pressure, depression or anxiety related to work-life balance can also trigger heart attacks.
Symptoms of Heart Attack
The heart attack has some prominent symptoms. Let us have a look at the same
Discomfort or pain in the chest
Pressure on chest
Pain towards jaw and left side of the body
Lack of oxygen supply
Nausea and sweating
If you experience any of these symptoms or know anyone at the workplace having any of these symptoms, make sure you seek medical help immediately.
Many companies have well-defined health policy for their workforce and have a customized health plan designed by professional prevention healthcare experts. A regular employee health assessment can help in detecting various health conditions at the early stage.
Heart Attack prevention tips
Some important factors to take care of -
Arrange employee health checkups on a regular basis.
Ensure that the employees are not over-burdened with work.
Educate employees about health and medical emergencies.
Maintain healthy interaction among employees.
Indus Health Plus helps organizations with its customized wellness programs designed to meet the industry-specific needs. If you are planning to start a health initiative for your employees,fill up the query form and our representative will get in touch with you to assist ahead.