Aerobics Sessions for Employees
In the competitive corporate world, it is getting tougher for the employees of every enterprise to stay fit and healthy. The unmanageable long hours are causing stress, anxiety and a number of other health problems which are directly or indirectly related to the pressure that everyone faces at the workplace. In the last few decades, the number of obese people has increased to an alarming number in UAE. The additional health problems like cardiovascular diseases and diabetes are causing more trouble than ever.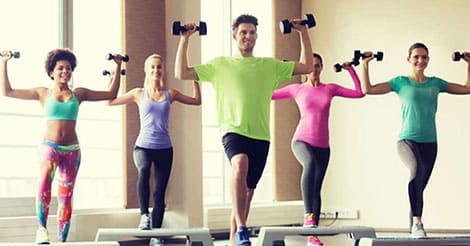 Indus Health Plus has a solution for such problems. We have specially designed healthcare packages & corporate wellness programs, which can enable companies to bring their workforce and management to a place where stress levels are lesser and they can have a sustainable healthier lifestyle. It is a fact that the lifestyle of the employees and management play an important role in the progress of any company. If the workforce is not healthy, there will be less productivity and the company will face major loss in the longer run.
Aerobic sessions for workforce can help in keeping the employees as well as the management in good shape. Indus Health Plus has specialists who take care of every individual participating in these sessions. These sessions can be designed as per the size of the enterprise, a number of employees, availability of space and timelines.
The aerobic sessions can be arranged on the daily or weekly basis at the company premises or the employees can visit our prescribed locations for the sessions. Aerobics help in overall toning of the body and keep the person in good shape. It also helps in decreasing the level of stress and maintaining good hormonal balance.
Looking forward to having the aerobic sessions at your office premises, please feel free to contact us.